Welcome to Camden Printing's Website and Online Storefront
To place an order or get help with a new project, enter Camden Printing online Customer Service Center. To download useful software and find helpful information, search our Resources & Support area. Learn more about us, browse through our Company Information section.
An easy-to-use pulldown menu, search engine, and link to our contact form appear on each page. As well, feel free to consult the site map at any time if you're having trouble locating a particular item. If there's anything we can do to improve our site, please let us know.
Enjoy your visit!
---
Camden Printing Featured Products



Brochures

With professional design and printing, our brochures are sure to sell. From the big idea to the small details, our team has years of experience to get the job done.




It's time to tell the world. Whether you're announcing a special event, a new baby or broadcasting your business, we can help you spread the news with highly professional postcards, note cards and greeting cards of all types.




Shouldn't your stationery be as unique as your business? Give your company an engaging brand identity through professionally designed letterhead, envelopes and business cards.




It's about more than staying in touch; it's about staying on top. With bold designs and vivid color, we'll help you create great newsletters to make an instant impression.




Put your professionalism on full display. For years, our team has helped local businesses create posters that demand a second look.
Why Your Business Card is Still Important
Posted on 09/30/2019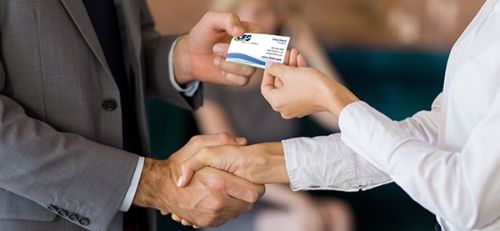 As you know, we live in a very digitally focused society. You're used to hearing about how the print industry is dying, and everything is switching to a technological focus. That being said, you probably consider carrying business cards a little old fashioned. However, business cards still have a lot to offer. Before you ditch yours, check out our reasons why you should still be using one to navigate the business world.
People are forgetful.
Have you ever left a conversation at a business or networking event and quickly realized you forgot the other person's name? You wouldn't be the only one. This can be awkward, especially if you discussed potentially working together. 
To prevent losing business in this way, always leave people with your business card and make sure to get theirs. You'll each have a copy of each other's contact information so you can continue your conversation at a later time. 
Business cards put a face to a business.
When you meet someone new, hand them your business card. Even if they don't need your services now, they'll be able to pull it out when they do. They'll remember the conversation you had and hopefully use that connection to hire you or your organization. People want to work with people they trust, and that one conversation you had could be enough to point them in your direction.
Business cards are more personal.
A quick exchange of business cards has more of a personal touch than two people typing contact information into their smartphones. Staring at your screen can make you look disconnected, like the other person isn't your main focus. It also takes a lot longer to take down someone's name, phone number and email address than it does to hand over a business card. You can even download apps to scan business cards later to organize their contents.
Business cards are tangible. 
A digital copy of your contact information can easily get buried in someone's computer or phone notes. Because business cards are physical objects, you don't need internet access to view them. When someone leaves your business card in their wallet or on their desk, it's going to stay there until they move it. They'll have to look at it more than once. This great for creating brand retention and hopefully a new client or sale. 
Business cards demonstrate professionalism. 
People tend to trust print materials like business cards more than their digital counterparts. Bringing your business card to a meeting or event tells others you belong there, and you know what you're doing. It says you're confident enough in your job ability that you'll give your name and information to others. 
Business cards are still incredibly relevant in today's digital world. They give your name a sense of legitimacy. They're also personal in the sense that they allow people to put a face to an organization's name. Don't be too quick to get rid of yours, as it'll likely come in handy.